INFECCION FILARIAL DE APROCTELLA STODDARDI CRAM, 1931 (NEMATODA: ONCHOCERCIDAE) EN PASSERIFORMES DE AREAS PERIURBANAS, ESTADO DE PARÁ. BRASIL
Palabras clave:
Amazonia brasileña , Aves silvestres , Filarias , Onchocercidae
Resumen
Reportes de nematodos filarias en aves silvestres son escasos en América do Sul, principalmente en la región amazónica. Fueron analizados los órganos de las cavidades torácica y abdominal de 34 aves silvestres pertenecientes a 12 especies diferentes de aves Passeriformes en áreas periurbanas del Estado de Pará. Filarias adultas fueron observadas en 3/34 (9%) aves, localizadas en la cavidad abdominal de los huéspedes Las características morfológicas y morfométricas de los nematodos fueron compatibles con la clasificación taxonómica de Aproctella stoddardi Cram, 1931, siendo este el primer relato de esta especie en la amazónica en el norte de Brasil. Debido a la migración observada de otros géneros de filarias, Aproctella Cram, 1931 puede tener la capacidad de infección en otros sitios, como hígado, corazón, pulmón y cerebro. Además, es necesario ampliar los registros de filarias en aves de la región para elucidar los factores que influencian esta infección,
Descargas
Los datos de descargas todavía no están disponibles.
Citas
Almeida, SM, Juen L, Sobral, FL, Santos & MPD. 2018. The influence of biogeographic history on the functional and phylogenetic diversity of passerine birds in savannas and forests of the Brazilian Amazon. Ecology and Evolution, vol. 8, pp. 3617–3627.
Amato, JFR & Amato, SB. 2010. Técnicas gerais para coleta e preparação de helmintos endoparasitos de aves, pp. 1-25. In: Matter. S.B., Straube, F., Accordi, I., Piacentini, V., Cândido-Jr, J.F. Ornitologia e Conservação: Ciência Aplicada, Técnicas de Pesquisa e Levantamento (Ed.). Technical Books.
Anderson, RC. 1957. Taxonomic studies on the genera Aproctella Cram, 1931 and Carinema Pereira and Vaz, 1933 with a proposal for a new genus Pseudaproctella n. Gen. Canadian Journal of Zoology, vol. 35, pp. 25-33.
Anderson, RC. 1961. On the identity of Aproctella in birds in North America. Proceedings of the Helminthological Society of Washington, vol. 28, pp. 81-82.
Anderson, RC. & Chabaud, AG. 1959. Remarques sur la classification des Splendidofilariinae. Annales de parasitologie humaine et comparée, vol. 34, pp. 53-63.
Atkinson, CT, Thomas, NJ, Hunter, DB. 2009. Parasitic diseases of wild birds. Wiley-(Eds). Blackwell, 595p.
Bain, O, Petit, G, Kozek, WJ, & Chabaud, AG. 1981. Sur les filaires Splendidofilariinae du genre Aproctella. Annales de parasitologie humaine et comparée, vol. 56, pp. 95-105.
Bartlett, CM, & Anderson, RC. 1981. Occult filariasis in crows (Corvus brachyrhynchos brachyrhynchos Brehm) infected with Splendidofilaria caperata Hibler, 1964 (Nematoda: Filarioidea). Journal of Wildlife Diseases, vol. 17, pp. 69-77.
Berto, BP, Flausino, W, McIntosh, D, Teixeira-Filho, WL & Lopes, CW. 2011. Coccidia of New World passerine birds (Aves: Passeriformes): a review of Eimeria Schneider, 1875 and Isospora Schneider, 1881 (Apicomplexa: Eimeriidae). Systematic Parasitology, vol. 80, pp. 159-204.
Boyd, EM. 1966. Study of two syngamid nematodes from the Eastern Belted Kingfisher Megacyrle alcyon alcyon and a new host record for Aproctella stoddardi Cram 1931. Proceedings of the Helminthological Society of Washington, vol. 33, pp. 56-99.
Gomez-Puerta, LA & Mayor, P. 2017. Congenital filariasis caused by Setaria bidentata (Nematoda: Filarioidea) in the red brocket deer (Mazama americana). Journal of Parasitology. vol. 103, pp. 123-126.
Larrat, S, Dallaire, AD & Lair, S. 2012. Emaciation and larval filarioid nematode infection in boreal owls (Aegolius funereus). Avian Pathology, vol. 41, pp. 345-349.
Magalhães-Matos, PC, do Vale Silva, MB, Souza, PGS, da Silva Lima, DH, de Morais, R, de Farias, DM, Alvarenga, LCO, Gabriel, AM, Oliveira, WBL, Góes-Cavalcante, G, & Scofield, A. 2016. Ocorrência de ovos e oocistos de parasitos gastrointestinais em aves Passeriformes mantidas em cativeiro no estado do Pará, Brasil. Ciência Rural. vol. 46, pp. 2177-2181.
Mascarenhas, CS, Krüger, C & Müller, G. 2009. The helminth fauna of the red-crested cardinal (Paroaria coronata) Passeriformes: Emberizidae in Brazil. Parasitology Research, vol.105, pp. 1359–1363,
Mondal, SK, Adhikari, A, Chakraborty, RN & Mandal, S. 2017. Filariasis presenting as tubo-ovarian mass: Report of a rare case. CHRISMED Journal of Health Research, vol. 4, pp. 136-138.
Pandey, A, Masood, S & Awasthi, NP. 2015. Cystic microfilarial infestation of the liver: a rare presentation. International Journal of Infectious Diseases, vol. 31, pp. 15-17.
Pinto, RM, Vicente, JJ, Noronha, D, & de Fábio, SP. 1991. New records for the nematodes Ascaridia columbae (Gmelin) Travassos, Acuariamayori Lent, Freitas & Proença and Aproctella stoddardi Cram in Brazilian birds, with redescription of the species. Revista Brasileira de Zoologia, vol. 8, pp. 1-6.
Santos, LS., Silveira-Mascarenhas, C., Santos, PRS., & Rosa-Farias, NA. 2020. Helminth fauna of Passer domesticus (Passeriformes: Passeridae) in the southern extreme of Brazil. Revista mexicana de biodiversidad, vol. 91, e913109.
Scheer, S, Mascarenhas, CS, Macedo, MRPD & Muller, G. 2019. Helminths Assemblage of the bare-faced ibis, Phimosus infuscatus (Lichtenstein, 1823) (Pelecaniformes: Threskiornithidae), in southern Brazil. Revista Brasileira de Parasitologia Veterinária, vol. 28, pp. 40-46.
Sonin, MD & Barus, V. 1968. Filariid nematodes in birds and reptiles of Cuba. Folia Parasitologica, vol.15, pp. 55-65.
Souza, LS, Andrade, AMF, Guilherme, E & Santos, FGA. 2019. Endoparasites in wild birds in the Brazilian Amazon. Brazilian Journal of Veterinary Medicine, vol. 41, e105219.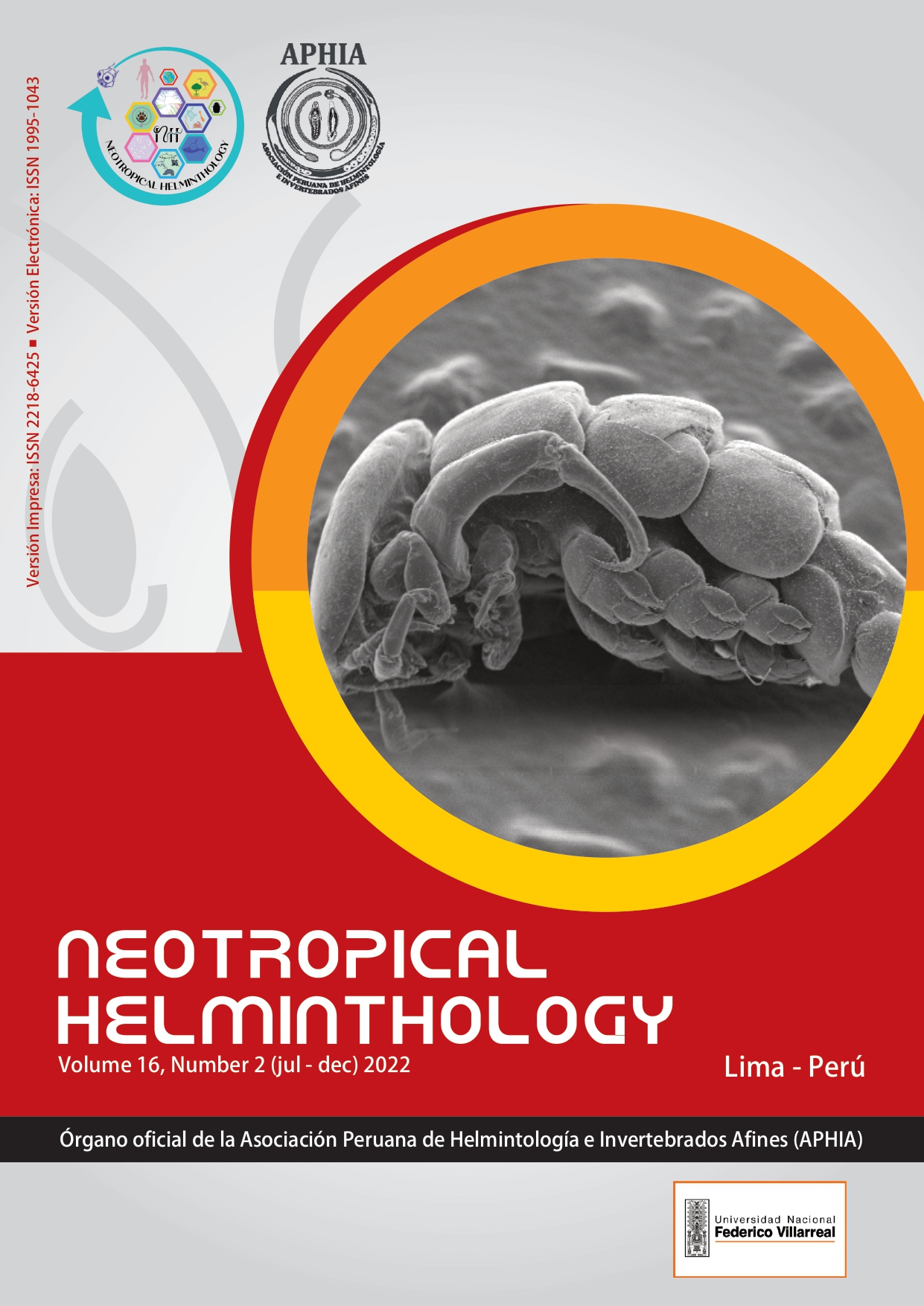 Descargas
Cómo citar
Rabelo, A. M. P. ., Correa, J. D. ., Bezerra, A. M. ., Pereira, W. L. ., & Conga, D. M. F. . (2022). INFECCION FILARIAL DE APROCTELLA STODDARDI CRAM, 1931 (NEMATODA: ONCHOCERCIDAE) EN PASSERIFORMES DE AREAS PERIURBANAS, ESTADO DE PARÁ. BRASIL. Neotropical Helminthology, 16(2). https://doi.org/10.24039/rnh20221621464
Sección
Notas Científicas
Licencia
Esta obra está bajo una licencia internacional Creative Commons Atribución-NoComercial-SinDerivadas 4.0.
OBJETO: El AUTOR-CEDENTE transfiere de manera TOTAL Y SIN LIMITACIÓN alguna al CESIONARIO los derechos patrimoniales que le corresponden sobre la (s) obra(s) tituladas: xxxxxxxxxxxxxxxx, por el tiempo que establezca la ley internacional. En virtud de lo anterior, se entiende que el CESIONARIO adquiere el derecho de reproducción en todas sus modalidades, incluso para inclusión audiovisual; el derecho de transformación o adaptación, comunicación pública, traducción, distribución y, en general, cualquier tipo de explotación que de las obras se pueda realizar por cualquier medio conocido o por conocer en el territorio nacional o internacional.
REMUNERACIÓN: La cesión de los derechos patrimoniales de autor que mediante este contrato se hace será a título gratuito.
CONDICIONES Y LEGITIMIDAD DE LOS DERECHOS: El AUTOR-CEDENTE garantiza que es propietario integral de los derechos de explotación de la(s) obra(s) y en consecuencia garantiza que puede contratar y transferir los derechos aquí cedidos sin ningún tipo de limitación por no tener ningún tipo de gravamen, limitación o disposición. En todo caso, responderá por cualquier reclamo que en materia de derecho de autor se pueda presentar, exonerando de cualquier responsabilidad al CESIONARIO.
LICENCIA DE ACCESO ABIERTO: El AUTOR-CEDENTE autoriza que manuscrito publicado en La Revista Neotropical Helminthology permanece disponible para su consulta pública en el sitio web https://www.neotropicalhelminthology.com/ y en los diferentes sistemas de indexación y bases de datos en las que la revista tiene visibilidad, bajo la licencia Creative Commons, en la modalidad Reconocimiento-No comercial- Sin Trabajos derivados –aprobada en Perú, y por lo tanto son de acceso abierto. De ahí que los autores dan, sin derecho a retribución económica, a la Asociación Peruana de Helmintología e Invertebrados Afines (APHIA), los derechos de autor para la edición y reproducción a través de diferentes medios de difusión.