METACERCARIA DE CLINOSTOMUM SP. (TREMATODA: CLINOSTOMIDAE) INFESTANDO A CÍCLIDOS CULTIVADOS ORNAMENTALES EN LA AMAZONÍA PERUANA
Palabras clave:
Acuicultura , Ave piscivora , ciclidos , Clinostomum
Resumen
El comercio de peces ornamentales es una de las actividades económicas más importantes para miles de personas en la región amazónica. Entre los peces que se exportan desde Perú, Apistogramma sp., Cichlasoma amazonarum (Kullander, 1983) y Pterophyllum scalare (Schultze, 1823) son muy demandados en las actividades comerciales de peces ornamentales. A la fecha, en el Perú, los estudios referentes a los parásitos que afectan las actividades acuícolas son escasos, es así que el presente estudio registra por primera vez en la Amazonía peruana la ocurrencia de Clinostomum sp. parasitando tres especies de cíclidos. Se recolectaron muestras de Apistogramma sp., C. amazonarum y P. scalare en un estanque de piscicultura del "Centro de Investigación de Peces Ornamentales de la Amazonía (ARCOF) en Iquitos, Perú. Las muestras analizadas revelaron la presencia de Clinostomum sp. parasitando las aletas de los peces. Como algunas especies de cíclidos se cultivan en la Amazonía peruana para su exportación como peces ornamentales, la presencia de este trematodo podría comprometer la salud de los peces y causar mortalidades, ya sea por susceptibilidad a la depredación por aves piscívoras o por lesiones causadas por la infección de parásitos.
Descargas
Los datos de descargas todavía no están disponibles.
Citas
Bush, A O, Lafferty, K D, Lotz, J M. & Shostak W A. 1997. Parasitology meets ecology on its own terms: Margolis et al. revisited. The Journal of Parasitology, vol. 83, pp. 575–583.
Castelo, F P. 1984. Ocorrência de Clinostomum marginatum Rudolphi, 1819 "Yellow-Spot Disease" em filé de jaraqui (Semaprochilodus insignis Shomburgk, 1814). Acta Amazonica, vol. 13, pp. 325-326.
De Souza, D C, De Sousa, L F, Coelho, T A. & Corrêa L L. 2020. Host–parasite interaction between trematode, Clinostomum marginatum (Clinostomidae) and armoured catfish, Pterygoplichthys pardalis (Loricariidae) from Brazilian Amazon. Annals of Parasitology, vol. 66, pp. 243-249.
De Souza, D. C., Nogueira, A. & Corrêa L L. 2020. Parasitism by Clinostomum marginatum (Clinostomidae) in neotropical electric fish (Gymnotiformes) in the Brazilian Amazon. Annals of parasitology, vol. 66, pp. 101-106.
Eiras, J, Dias, M L, Pavanelli, G C. & Machado M H. 1999. Histological studies on the effects of Clinostomum marginatum (Digenea, Clinostomidae) in its second intermediate host Loricariichthys platymetopon (Osteichthyes, Loricariidae) of the upper Paraná River, Brazil. Acta Scientiarum. Biological Sciences, vol. 21, pp. 237-241.
García-Dávila, C, Estivals, G, Mejia, J, Flores, M, Angulo, C, Sánchez, H, Nolorbe, C, Chuquipiondo, C, Castro-Ruiz, D, García, A, Ortega, H, Pinedo, L, Oliveira, C, Römer, U, Mariac, C, Duponchelle, F, Renno, J F. 2020. Peces Ornamentales de la Amazonía Peruana. Instituto de Investigaciones de la Amazonia Peruana (IIAP). 503 p.
Isaac, A, Guidelli, G M. & De França J G. 2004. Composição e estrutura das infracomunidades endoparasitárias de Gymnotus spp. (Pisces: Gymnotidae) do rio Baía, Mato Grosso do Sul, Brasil. Acta Scientiarum, Biological Sciences, vol. 26, pp. 453-462.
Kullander, S. & Silfvergrip A. 1991. Review of the South American cichlid genus Mesonauta Günther (Teleostei, Cichlidae) with descriptions of two new species. Revue Suisse Zoologie, vol. 98, pp. 407-448.
Liao, X H. 1993. Redial productivity of Clinostomum complanatum (Trematoda: Clinostomatidae) within the snail host. Folia parasitologica, vol. 40, pp. 313-318.
Lo, C F, Wang, C H, Huber, F. & Kou G H. 1982. The study of Clinostomum complanatum (Rudolphi, 1814) II. The life cycle of Clinostomum complanatum, CAPD Fisheries Series No 8, Reports on Fish Disease Research (IV), pp. 26-56.
Morais, A M, Varella, A M, Fernandes, B M. & Malta J C. 2011. Clinostomum marginatum (Braun, 1899) and Austrodiplostomum compactum (Lutz, 1928) metacercariae with zoonotic potential of Pygocentrus nattereri (Kner, 1858) (Characiformes: Serrasalmidae) from Central Amazon, Brazil. Neotropical Helminthology, vol. 5, pp. 8-14.
Moreau, M. & Coomes O T. 2007. Aquarium fish exploitation in western Amazonia: conservation issues in Peru. Environmental Conservation, vol. 34, pp. 12-22.
Murrieta-Morey, G A. & Malta J C. 2016. Metazoarios parasitas das narinas do tambaqui Colossoma macropomum (Cuvier, 1818) (Characiformes: Characidae) coletadas em Lagos de Varzea da Amazonia Central, Brasil. Folia Amazônica, vol. 25, pp. 71-76.
Olivier, K. 2001. The ornamental fish market. Rome: FAO/GLOBEFISH Research Programme, vol. 67, pp. 91.
Paraguassú, A R, Alves, D R. & Luque J L. 2005. Metazoários parasitos do Acará Geophagus brasiliensis (Quoy & Gaimard, 1824) (Osteichthyes: Cichlidae) do reservatório de Lajes, Estado Do Rio De Janeiro, Brasil. Revista Brasileira de Parasitologia Veterinaria, vol. 14, pp. 35-39.
Ramos-Alves, D, Luque, J L. & Paraguassu R A. 2001. Metacercárias de Clinostomum marginatum (Digenea: Clinostomidae) em acará-bandeira Pterophyllum scalare (Osteichthyes: Cichlidae) no estado do Rio de Janeiro, Brasil. Parasitologia al Día, vol. 25, pp. 70-72.
São Clemente, S C, Matos, E, Tortelly, R. & Lima F C. 1998. Histopatologia do parasitismo por metacercárias de Clinostomum sp. em tamoata, Hoplosternum littorale (Hancock, 1828). Parasitologia al Dia, vol. 22, pp. 38-40.
Simsek, E, Yildirim, A, Yilmaz, E, Inci, A, Duzlu, O, Onder, Z, Ciloglu, A, Yetismis, G. & Pekmezci G Z. 2018. Occurrence and molecular characterization of Clinostomum complanatum (Trematoda: Clinostomidae) in freshwater fishes caught from Turkey. Parasitology Research, vol. 117, pp. 2117-2124.
Szidat, L. 1969. Structure, development and behaviour of new strigeatoid metacercariae from subtropical fishes of South America. Journal of the Fisheries Research Board of Canada, vol. 26, pp. 753-786.
Takemoto, R M, Lizama, M A, Guidelli, G M. & Pavanelli C. 2004. Parasitas de peixes de águas continentais. In: Paiva, MR, Takemoto, RM & Lizama, MAP (Org.). Sanidade de Organismos Aquáticos. 1. Ed. São Paulo: Ed. Varela, vol. 1, pp. 179-197.
Thatcher, V E. 1991. Amazon fish parasites. Amazoniana, vol. 11, pp. 263-572.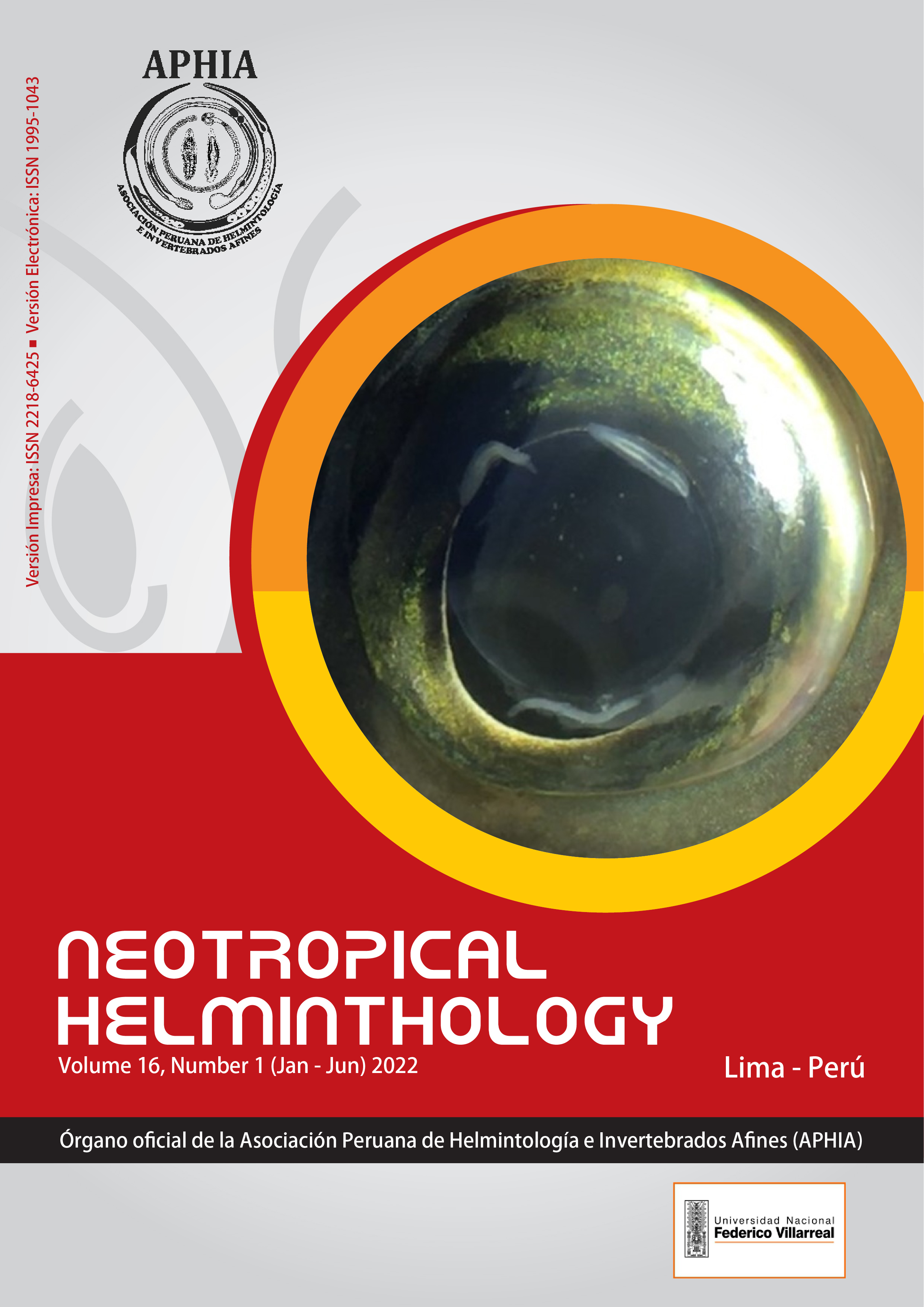 Descargas
Cómo citar
Murrieta-Morey, G. A. ., Tuesta Rojas, C. A., Echevarria-Matos, A. M. ., & Chuquipiondo-Guardia , C. T. . (2022). METACERCARIA DE CLINOSTOMUM SP. (TREMATODA: CLINOSTOMIDAE) INFESTANDO A CÍCLIDOS CULTIVADOS ORNAMENTALES EN LA AMAZONÍA PERUANA. Neotropical Helminthology, 16(1). https://doi.org/10.24039/rnh20221611381
Sección
Artículos Originales
Licencia
Esta obra está bajo una licencia internacional Creative Commons Atribución-NoComercial-SinDerivadas 4.0.
OBJETO: El AUTOR-CEDENTE transfiere de manera TOTAL Y SIN LIMITACIÓN alguna al CESIONARIO los derechos patrimoniales que le corresponden sobre la (s) obra(s) tituladas: xxxxxxxxxxxxxxxx, por el tiempo que establezca la ley internacional. En virtud de lo anterior, se entiende que el CESIONARIO adquiere el derecho de reproducción en todas sus modalidades, incluso para inclusión audiovisual; el derecho de transformación o adaptación, comunicación pública, traducción, distribución y, en general, cualquier tipo de explotación que de las obras se pueda realizar por cualquier medio conocido o por conocer en el territorio nacional o internacional.
REMUNERACIÓN: La cesión de los derechos patrimoniales de autor que mediante este contrato se hace será a título gratuito.
CONDICIONES Y LEGITIMIDAD DE LOS DERECHOS: El AUTOR-CEDENTE garantiza que es propietario integral de los derechos de explotación de la(s) obra(s) y en consecuencia garantiza que puede contratar y transferir los derechos aquí cedidos sin ningún tipo de limitación por no tener ningún tipo de gravamen, limitación o disposición. En todo caso, responderá por cualquier reclamo que en materia de derecho de autor se pueda presentar, exonerando de cualquier responsabilidad al CESIONARIO.
LICENCIA DE ACCESO ABIERTO: El AUTOR-CEDENTE autoriza que manuscrito publicado en La Revista Neotropical Helminthology permanece disponible para su consulta pública en el sitio web https://www.neotropicalhelminthology.com/ y en los diferentes sistemas de indexación y bases de datos en las que la revista tiene visibilidad, bajo la licencia Creative Commons, en la modalidad Reconocimiento-No comercial- Sin Trabajos derivados –aprobada en Perú, y por lo tanto son de acceso abierto. De ahí que los autores dan, sin derecho a retribución económica, a la Asociación Peruana de Helmintología e Invertebrados Afines (APHIA), los derechos de autor para la edición y reproducción a través de diferentes medios de difusión.